CLASSICS PLUS LTD.
Automobile Restoration

Specializing on the Classics: 55, 56, 57 Chevys
• Complete Restoration
• Modified and Custom
• Pro Street/Comp.
• High Tech.
Classics Plus Ltd. is a family owned business where quality is an attitude, exceeding customer's expectations.
Classics Plus Ltd. started its rockin' business in the summer of 1988. In humble surroundings, we were restoring automobiles. After a few years, we moved to our present location on Lakeshore Drive and branched off into other automotive specialties to satisfy the growing need of our customers. Classics Plus Ltd. tried to make it as simple as possible for a customer who wants a car restored or a street rod built. Basically, we are a one-stop shopping facility.

We take pride in the work that goes out our door. Classics Plus Ltd. is a strong growing business that strives daily to excel in producing an outstanding product. Our employees enjoy the everyday challenges and competition that greets them in their endeavors. Our goal is to satisfy all of our customers with a high quality product that you can be proud of for many years to come.

• Learn more about Classics Plus Ltd.
• Take a look at our Photo Gallery


BOUGHT, SOLD AND TRADED
Show Car Quality Since 1988

Classics Plus Ltd. • info@classicsplusltd.com
601 Lakeshore Dr., North Fond du Lac, WI 54937 • Phone: 888-923-1007



about us | our work | in the press | contact us | our awards | home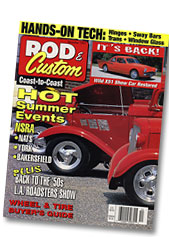 Featured in magazines
like "Rod & Custom"
Mike Freund's automotive expertise has been featured in magazines like Rod & Custom, Street Rodder, Good Guys and many more. Check out our "In the Press" section to see these great cars and learn more...



Classics Plus Ltd. offers:

• Auto Restoration
• Chroming
• Custom Painting
• Flames
• Louvers
• Stainless Polishing
• Steering Wheel Restoration